The second coming of Peter Crouch
These days, the modern forward can be described as pacy, with good technical ability and ability to beat his man. However, the evergreen Glenn Murray has shown in the Premier League that the good, old target man is still needed in English football.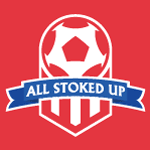 Want your voice heard? Join the All Stoked Up team!
Write for us!
Peter Crouch fits into the mould of an archetypal target man, tall, good in the air and can hold the ball up for teammates. In yesteryear, he would've been an absolute gem for teams, in current times, he is the opposite of what teams are looking for, a lack of pace and stamina makes him a player that just doesn't fit in with most teams, I mean Crouch at the moment could replace Romelu Lukaku at Manchester United and still do a decent job.
The Championship is such a physical league that the target man is still commonly used in the Championship, although every year the number of target men decrease. With Benik Afobe looking less likely to score after every passing game why not put Crouch up top, launch crosses at him and more often than not he should be able to get his head on the ball and possibly assist his teammates or score a goal himself, while Crouch might not last the full ninety, in the time he plays, he might have a greater impact than Afobe is having at the moment and do the robot dance.
Rowett could also switch Stoke City to a 4-4-2 and have McClean and Ince aim crosses at Crouch who then heads it down for Afobe. The Afobe-Crouch partnership might be like the Cole-Yorke partnership that Manchester United so heavily depended on for goals.
Who knows? This might be the second coming of Peter Crouch.